Air Launched Weapon System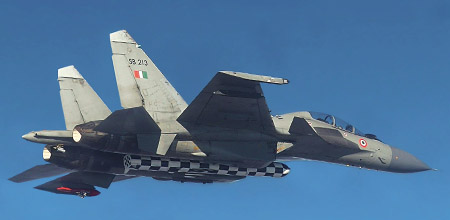 The highly advanced BRAHMOS air-launched cruise missile (ALCM) with precision attack capability against sea and land targets has been designed and developed by BrahMos Aerospace for the Indian Air Force's frontline air combat platform Sukhoi-30MKI. BRAHMOS ALCM is the heaviest and most powerful weapon to arm the IAF's Su-30 super-manouverable strike fighter.
BRAHMOS created history on 22nd Nov 2017 after it was successfully flight-tested first time from the Indian Air Force's (IAF) frontline fighter aircraft Sukhoi-30MKI against a sea based target in the Bay of Bengal. The missile was gravity dropped from the Su-30 from fuselage, and the two stage missile's engine fired up and straightway propelled towards the intended target at the sea in Bay of Bengal.
In subsequent successful test firings carried out from the supersonic fighter aircraft in 2019, BRAHMOS ALCM validated its impeccable land attack and anti-ship capability from large, stand-off ranges by day or night and in all weather conditions, thereby giving the IAF an unprecedented reach and capability to carry out modern air combat operations in a decisive manner.
The key agencies from India and Russia involved in the ambitious BRAHMOS-A programme included DRDO, NPOM, HAL, Sukhoi Design Bureau, Indian Air Force, SDI, ASTE, Air Hqrs, CEMILAC with BrahMos Aerospace being the lead agency in the project.
The first Su-30MKI fighter aircraft modified for BRAHMOS supersonic cruise missile was handed over by Hindustan Aeronautics Limited (HAL) to BrahMos Aerospace during Aero India 2015 at Yelahanka, Bengaluru.
On January 20, 2020, a squadron of fourth-generation fighter jets Sukhoi-30 MKI ('Tigersharks' 222 squadron) equipped with the BRAHMOS supersonic cruise missile was inducted in the Southern India, adding teeth to India's air and maritime dominance in the Indian Ocean Region.
The missile has received its Fleet Release Clearance (FRC) Certification which has been issued by the Centre for Military Airworthiness and Certification (CEMILAC). With the FRC, the IAF Squadrons can now use these missiles in combat missions.
The SU-30 MKI has a maximum speed of 2 Mach with a single in-flight range of 3,000 km. A total of 8,000 kg payload can be carried by it in a maximum altitude of 17 km. The missile also features several design refinements, which include a lighter propulsion system as well as redesigned fins and nose cap.